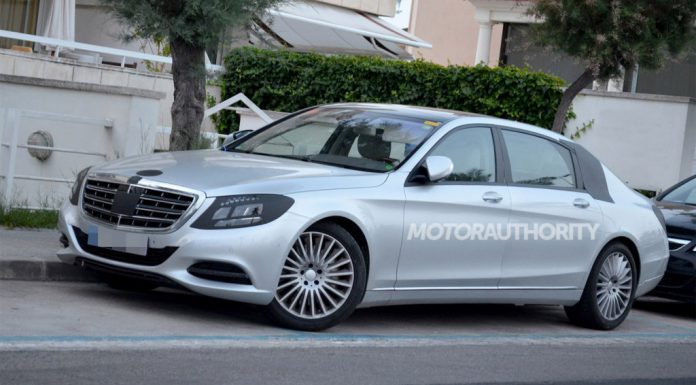 It has just been confirmed that the long-awaited 2014 Mercedes-Benz S600 will debut at the upcoming Detroit Motor Show 2014.
The standard Mercedes-Benz S600 has been spied testing on various occasions throughout the past few months. However, we thought a debut at the Geneva Motor Show 2014 in early March was most likely but obviously not. Either way, the Mercedes-Benz S600 is set to act as the flagship vehicle for Mercedes-Benz except for the Pullman and mysterious extra long-wheelbase S-Class which has been spied testing at the Nurburgring.
As for the eventual S600 Pullman, it will measure around 6 to 12 inches longer than the standard 2014 S-Class and will be built as a direct rival to the Rolls-Royce Phantom. Under the hood, the 2014 Mercedes-Benz S600 Pullman is expected to be powered by a massive twin-turbocharged 6.0-liter V12 engine delivering around 600 hp. That is just 30 hp down from the incredible S65 AMG released late last year. In terms of the standard S600 coming to Detroit, it will feature a little bit less power and torque.
As you would imagine, the most luxurious and high-end S-Class will include all the incredible features of the latest S-Class. Some of these will include Magic Body Control as standard with Road Surface Scan, the world's first suspension with eyes. We have experienced this before on both the S 500 and S 63 AMG models. The Road Surface Scan uses radar to scan the road surface, detecting bumps, potholes, surface changes and general road surface imperfections. This information is fed back to the Magic Body Control unit which then adapts the suspension to smooth and optimise the ride. For the S 65 AMG, this is further refined to provide the best blend of comfort and dynamics.
[Via Motor Authority and In Auto News]