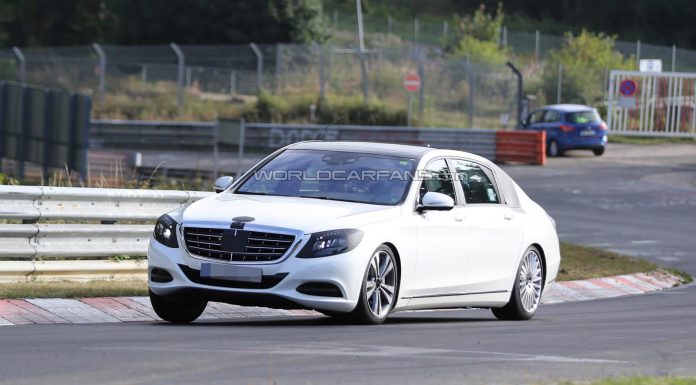 Following a spy video of the upgraded 2014 Mercedes-Benz S65 AMG testing on the Nurburgring, it seems Mercedes has been out testing the extra-long wheelbase of their 2014 luxury sedan.
The spyshots, which were first reported by WorldCarFans, show a rather hilariously long 2014 Mercedes-Benz S-Class attempting to hurdle itself around the Green Hell.
While it is easy to confuse the two, the car pictured is not actually the Pullman edition as we thought on first glance. The new extra-long wheelbase (or whatever they decide to call it) will slot in neatly between the current long wheelbase and the ultra-premium Pullman edition.
The new Pullman edition will be replacing the long-standing Maybach and will feature a 2+2+2 seating layout.
The extra-long wheelbase,however, will feature a 2+2 arrangement as well as 200mm increase in interior space over the current long wheelbase S-Class.
Expect to see the new 2014 Mercedes S-Class extra-long wheelbase in showrooms sometime next year.
[Via WorldCarFans]