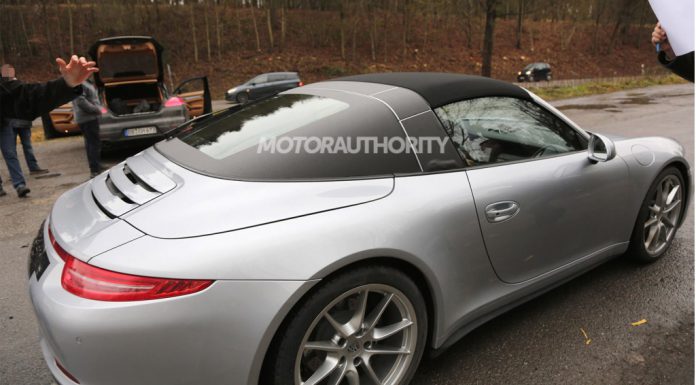 With its official worldwide debut just three weeks away at the Detroit Motor Show 2014, Porsche is finalising development of the brand new 2015 Porsche 911 Targa and Targa S. Now, new spy shots have emerged of the car with it completely ditching all its camouflage and instead simply using some matte black tape over the newly designed rear window.
For the 991 Targa, Porsche will take a step down memory lane with the new car featuring a roof design very similar to the original Targa from the 1960's. This redesigned roof sees a removable section above the cabin with a large B-pillar and fixed rear window then installed. While it doesn't give you the full outdoor experience like a convertible, the new Targa will likely prove very popular.
Under the hood, the base Porsche 991 Targa is set to receive a 3.4-liter flat six engine producing 345 hp. It will also be available in Targa S specification featuring a 3.6-liter flat-six with 395 raging ponies! When it debuts, the new Porsche 991 Turbo is expected to feature a similar all-wheel drive system to the previous car.
Importantly, the 2014 Porsche 911 Targa and Targa S will come standard with a manual transmission while the PDK system will be an optional extra.
[Via Motor Authority]