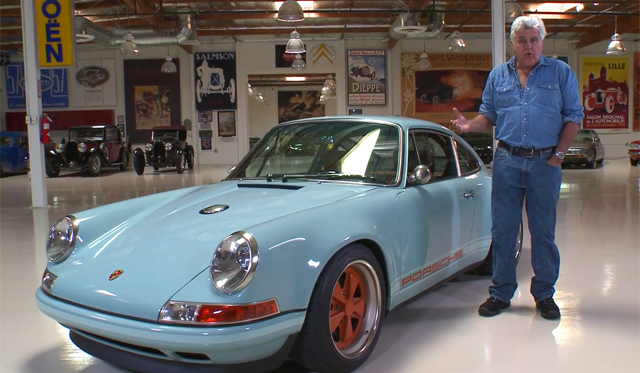 Earlier today, we featured a stunning Singer 911 for our latest Photo Of The Day. Now, all round car guy and American television host Jay Leno recently had a first-hand tour of the Singer 911 with the company's creative director.
Recently featured on Top Gear, Singer restores, improves and completely recreates a host of different Porsche 911s built prior to 1994. This particular Singer 911 was on display at the Pebble Beach Concours d'Elegance and on first appearances, looks like an early 1960's Porsche 911.
[youtube]http://www.youtube.com/watch?v=PemPidqObJ4#t=37[/youtube]
Despite that, it is actually based on the 1991 Porsche 964 911 and features a completely custom body similar to that from the original 911 from the 60's. In fact, every single body panel is made entirely from carbon fiber except for the doors. All up, the car weighs about 500 pounds less than the original.
The Singer 911 utilizes the 5 speed Getrag G50 transmission from the 964 series and comes with the option of a limited slip differential. Singer offers a choice of three air cooled flat six engines, all with specific characters and capacities from 3.6 liter to a 3.9 with an ultimate power range of 300‐425 hp. The car will accelerate from 0 to 100km/h in less than 4 seconds and onto a top speed over 270 km/h depending on specification.