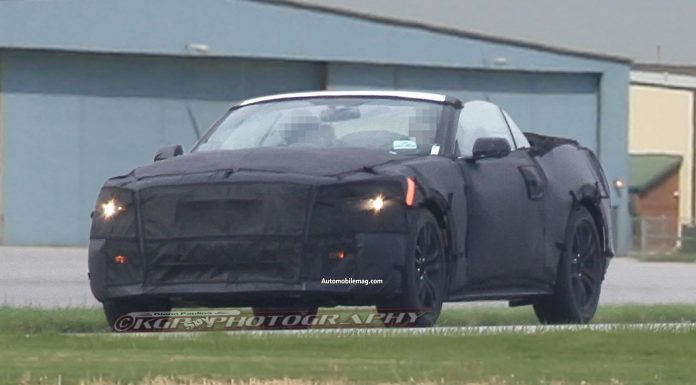 With the official public debut in December of the 2015 Ford Mustang edging ever closer, the very first prototype of the next-generation Ford Mustang Convertible has been spied testing under heavy camouflage.
Spotted both with its removable soft top opened and closed, there's no mistaking the fact that this is the 2015 Ford Mustang Convertible. Sharing all the upcoming styling traits of the 2015 Ford Mustang coupe, the spy photographer behind this image suggests that convertible variants of the next Mustang have been spotted before albeit under significant camouflage making them look like the coupe.
Whenever the 2015 Ford Mustang Convertible debuts, possible in January following the coupe's unveil, the car will likely receive a selection of variants in the coming years. The 2014 Ford Mustang GT350 coupe is predicted to be the first potent variant released of the next-gen Mustang.
The new GT350 will feature larger wheels covering up some extremely ferocious drilled rotors. From the rear, the car will feature quad exhaust pipes transmitting the car's potent V8 burble. While the powertrain for the new Mustang GT350 hasn't been revealed, it's predicted to be a 5.0-liter until delivering over 500hp.
In recent times, there have been conflicting reports about how much power the EcoBoost four-cylinder engine borrowed from the Ford Focus ST will deliver when fitted to the 2015 Ford Mustang. Recent reports from Australia claimed that the small engine would produce just 248hp, 4hp less than the Ford Focus ST. However, this conflicts with most reports suggesting that the car will feature a larger displacement 2.3-liter engine, up from the standard 2.0-liters, and ultimately produce anywhere from 300hp to 350hp.
[Via Automobile]