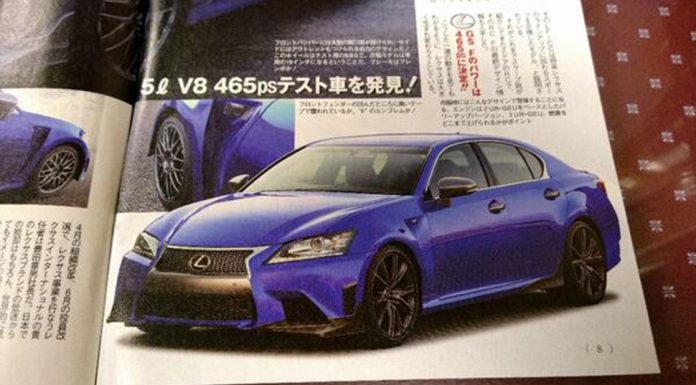 Images reportedly showcasing the completed Lexus GS F sedan have leaked in a Japanese car magazine. If these image showcase the real thing, then the Lexus GS F has been leaked in identical fashion to the Lexus RC F late last month.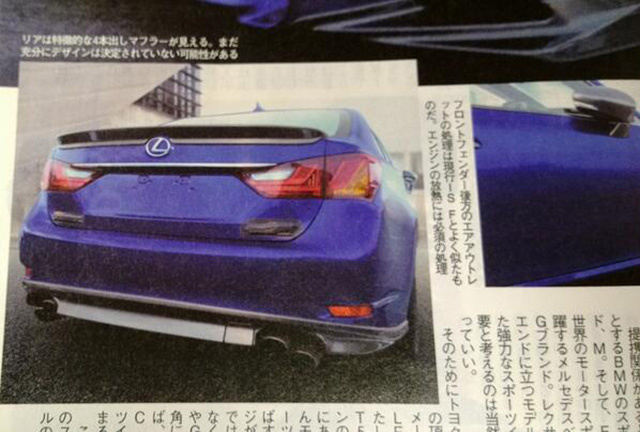 As you'd expect, the Lexus GS F is virtually identical to the standard Lexus GS range but features a selection of performance oriented parts helping to make it just that little bit more impressive to the eye. These include a new front bumper incorporating a prominent carbon fiber front splitter, new carbon fiber side skirts. The rear of the Lexus GS F features a small carbon fiber bootlid spoiler and the traditional quad IS-range exhaust pipes. As a result, there's no debating the fact that this is indeed a hotted-up variant of the Lexus GS.
Just how hot though? Well, initial reports claim that the Lexus GS-F, likely to come in as a 2015 model, will sport a 5.0-liter V8 engine producing around 465hp. For those high-performance luxury sedan aficionados out there, you'll know instantly that that's significantly less than the BMW M5. In fact, the BMW M5 produces 552hp!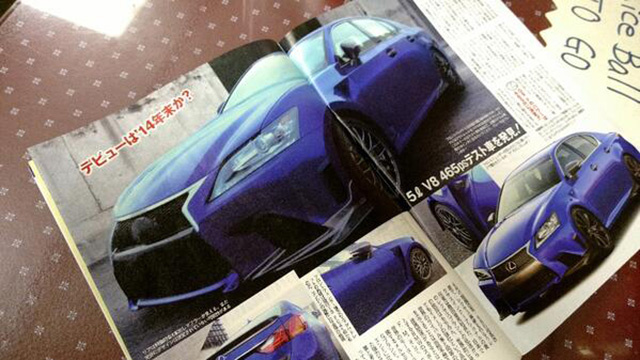 Additionally, such a figure puts the Lexus GS-F well below the Mercedes-Benz E63 AMG, Audi RS6 and Jaguar XJR. So is it fair to compare it against these almighty German and British uber-sedans? Possibly not because the Lexus GS-F is a much bigger car than the BMW M5 and for all we know, Lexus may not even be targeting the realm of M5s and AMGs.