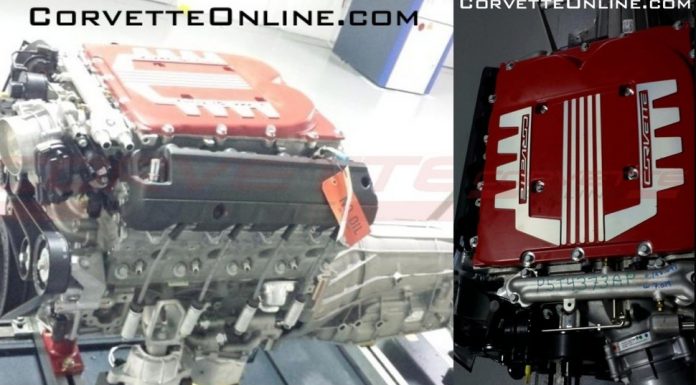 So it's no secret that Chevrolet is already hard at work creating more powerful variants of the recently released 2014 Chevrolet Corvette Stingray. So far, we've seen spyshots of the upcoming Z07 pinned to develop over 600hp thus leading to the question of whether or not the C6 Corvette ZR1 would ever receive a true successor?
Well, thanks to some new images courtesy of Corvette Online, it appears as though Chevrolet has already begun development of supercharged variants of the Corvette's new LT1 6.2-liter V8 engine. Reportedly showing the Corvette's new engine fitted with a potent supercharger, this engine could prove similar to the supercharged Corvette C7 Callaway is currently producing.
According to the site, "The engine in the photos is definitely an LT1-style, Gen V Chevy small block, as evidenced by the injector cover shape and the fact that the throttle body is consistent with the ones used on the C7′s LT1. And it's clearly a twin-rotor supercharged engine with the LSA/LS9 style pulley mounted high on the front, and intercooler plumbing also bearing a resemblance to previous heat exchanger setups."
If this is the real deal however, the question remains, just how powerful can it be? Well, as a reminder, the Corvette C6 ZR1 delivers a total of 638hp so any power figure beyond that is likely.
[Via Corvette Online and Jalopnik]