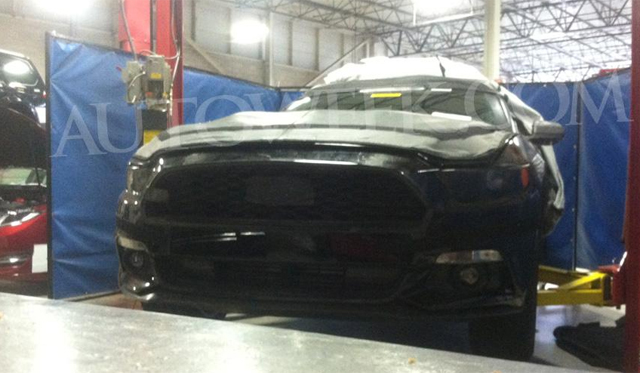 While prototypes of the 2015 Ford Mustang have been spotted under heavy camouflage, we always knew that the car would receive a fairly major facelift when eventually revealed.
New images have emerged showcasing a completely undisguised front-end of a 2015 Ford Mustang prototype reportedly snapped from someone inside the company. The rest of the car can be spotted wearing the heavy camouflage we've previously seen with just the front-section removed meaning this is very likely to be the real deal.
What's immediately noticeable about the next-generation Ford Mustang is that it will feature a revised front grille with what appear to be new daytime running lights on top of smaller dual fog lights. The other notable revisions are the significantly slimmer headlights.
By muscle car standards, the current Ford Mustang is a lightweight. In fact, in GT coupe specification, it tips the scales at around 3,600 pounds which is some 260 pounds less than the Chevrolet Camaro SS and more than 400 pounds lighter than a Dodge Challenger R/T. However, the 2015 Ford Mustang is set to weigh significantly less than any of those, including the outgoing Mustang, with reports suggesting it'll shed some 400 pounds!
Those weight savings will be achieved through the use of lightweight materials such as aluminium.
[Via Autoweek]