In recent months, numerous prototypes of the upcoming 2014 BMW 4-Series Convertible have been spotted testing. As a result of the seemingly lengthy development time of the drop-top version of the new 4-Series, we've been waiting with baited breath for the car's official release.
While the car remains unreleased, a few images of the new BMW 4-Series Convertible have leaked online apparently sourced from an official brochure for the new car. While the images aren't the greatest of quality, they do provide us with a clear look at how the new BMW 4-Series Convertible will look and it's all as expected with it featuring a similar look to the outgoing 3-Series Convertible.
That includes the four-seat layout as well as the elongated trunk. One interesting feature about the car pictured is that it's fitted with a horrible, optional bike rack indicating BMW is hoping to broaden the car's appeal to those with a more adventurous side.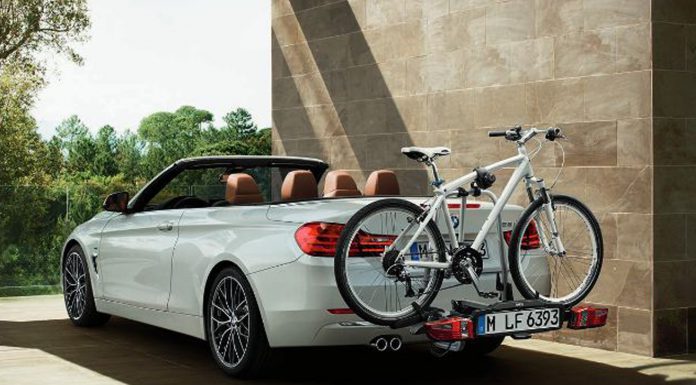 The 2014 BMW 4-Series Convertible will be offered with the same engines as the coupe. This means three different options will initially be available. They include the 420d with a 4-cylinder turbo diesel engine producing 181bhp, the 428i with a 2 liter 4-cylinder engine producing 242bhp and lastly the 435i with a 3 liter 6-cylinder engine producing 302bhp. Later on, BMW will introduce a 420i with 181bhp, 430d with 254bhp and 435d with 309bhp.