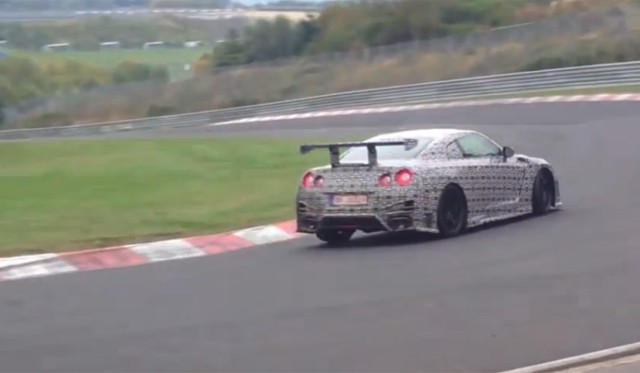 Nissan has officially begun high-speed testing at the Nurburgring in the 2014 Nissan GT-R Nismo in an effort to smash some production-car records.
According to those at the Nurburgring, Nissan recently hired out the entire facility for just the one prototype giving us the clearest indication that some timed laps are currently underway. Additionally, Nissan have placed timing beacons at the start of the track.
As it stands, the fastest time around the Nurburgring set by a Nissan GT-R was set last year at 7 minutes and 18 seconds. However, with the 2014 Nissan GT-R Nismo promising to be the most potent and track-oriented GT-R ever, that laptime will inevitably tumble.
[youtube]http://www.youtube.com/watch?v=fpqlE0UpNGc[/youtube]
According to company insiders, Nissan is aiming to make the 2014 Nissan GT-R Nismo the world's fastest accelerating production car. Yep, that means faster to 100km/h than cars such as the Ariel Atom 500 and the Bugatti Veyron Super Sport. However, Nissan isn't just aiming to eclipse the current benchmark of 2.5 seconds, and instead wants to absolutely destroy it.
According to AutoExpress, the 2014 Nissan GT-R Nismo should hit 100km/h in just 2 seconds flat. Just how will such a time be achieved? Well, according to previous reports, the 2014 Nissan GT-R Nismo will develop in the region of 570hp, up from the 545hp of the 2013 Nissan GT-R. While those gains don't seem all that impressive, the 2014 Nissan GTR Nismo will also be significantly lighter and Nissan is expected to make some serious advancements to its launch control system.