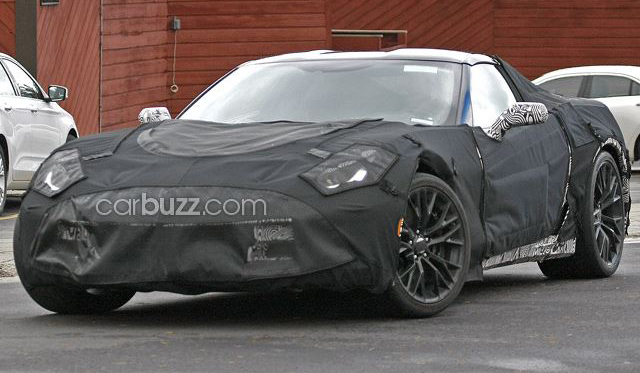 The upcoming 2015 Chevrolet Corvette Stingray Z07 has been spied testing for the second time, albeit this time there's no mistaking this for a high-performance variant of the new Stingray.
The previous Z07 prototype we brought you strangely featured a convertible roof initially believed to be a ploy by Chevrolet. Whether or not that was the real thing, it doesn't really matter, because this prototype is almost guaranteed to be the Z07.
2014 Chevrolet Corvette Stingray

The most notable visual change featured on this 2015 Chevrolet Corvette Z07 prototype are its larger wheels incorporating a new sporty design covering massive cross-drilled brake rotors. Upon closer inspection, they appear to be carbon ceramic units. Another notable design change is what appears to be a prominent hood bulge.
If that is indeed the case, then the 2015 Chevrolet Corvette Stingray Z07 could indeed feature a supercharged V8 engine as previously reported helping to deliver more than 600hp. As a result, the new Z07 could indeed be in-line with the performance of the insane Corvette C6 ZR1. However, what about a ZR1 successor?
Well word has it that whenever the range-topping Corvette is revealed, it could debut alongside the 2014 Corvette Z7.R. Returning to the Z07 pictured here, it's expected to be released at the Detroit Motor Show 2014, exactly one year after the launch of the regular car.
[Via CarBuzz]