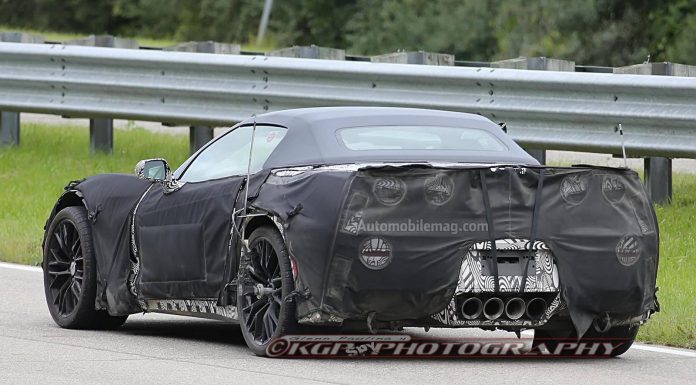 Following recent reports suggesting that the mid-range Chevrolet Corvette Stingray would wear the Z07 nameplate, new spyshots of the Chevrolet Corvette Z07 prototype have emerged.
As the above image showcases, this particular prototype seems to be sporting a convertible roof. However, the photographer believes this could just be a ploy from Chevrolet to fool keen-eyed carparazzi from mistaking it as nothing more than the 2014 Chevrolet Corvette Stingray Convertible.
However, there are a few clues indicating this could be the more potent Corvette Stingray variant. There appear to be small air intakes in front of the rear wheels. Speaking of the wheels, these black examples haven't been seen on the Corvette C7 previously and could in fact be previewing the new stock wheels of the Chevrolet Corvette Stingray Z07. They also share some clear similarities with the units found on the previous-generation Corvette Z07 Carbon Limited Edition.
2014 Chevrolet Corvette Stingray

Powering the 2016 Chevrolet Corvette Stingray Z07 is predicted to be either a single turbo or twin-turbocharged V8 engine most likely based on the 6.2-liter powertrain of the base Corvette Stingray C7. Consequently, the Chevrolet Corvette Stingray Z07 could deliver around 600hp. Mated to that potent powerplant will most likely be a Tremec TR-6070 seven-speed manual transmission.
Helping to send all that power to the ground will be larger and improved Michelin performance tires while stopping power will come in the form of large Brembo carbon-ceramic brakes. As it stands, it's unclear whether or not Chevrolet will produce a ZR1 version of the new Corvette Stingray C7, but if it does, it won't come earlier than a few years after the Z07.
[Via Automobile Magazine]