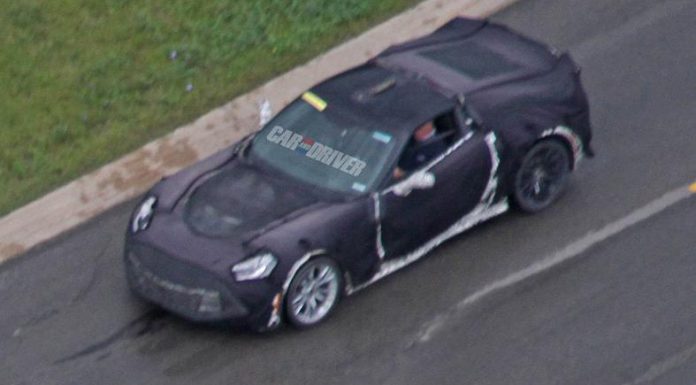 The very first spyshots of the upcoming 2016 Chevrolet Corvette Stingray Z07 have been published courtesy of Car and Driver and showcase the upcoming performance variant in its early stages of development. While the Z07 nameplate is new, the car will essentially be a successor to the already might Chevrolet Corvette Z06.
Powering the 2016 Chevrolet Corvette Stingray Z07 is predicted to be either a single turbo or twin-turbocharged V8 engine most likely based on the 6.2-liter powertrain of the base Corvette Stingray C7. Consequently, the Chevrolet Corvette Stingray Z07 could deliver around 600hp. Mated to that potent powerplant will most likely be a Tremec TR-6070 seven-speed manual transmission.
Helping to send all that power to the ground will be larger and improved Michelin performance tires while stopping power will come in the form of large Brembo carbon-ceramic brakes. As it stands, it's unclear whether or not Chevrolet will produce a ZR1 version of the new Corvette Stingray C7, but if it does, it won't come earlier than a few years after the Z07.
2014 Chevrolet Corvette Stingray

If the Chevrolet Corvette Stingray Z07 does indeed deliver around 600hp, it will be about 40hp down on the SRT Viper which by 2016, could have been upgraded further.
A debut for the 2016 Chevrolet Corvette Stingray Z07 could come at the Detroit Motor Show 2015 before sales start in the second half of 2015 for around $100,000.
[Via Car and Driver]