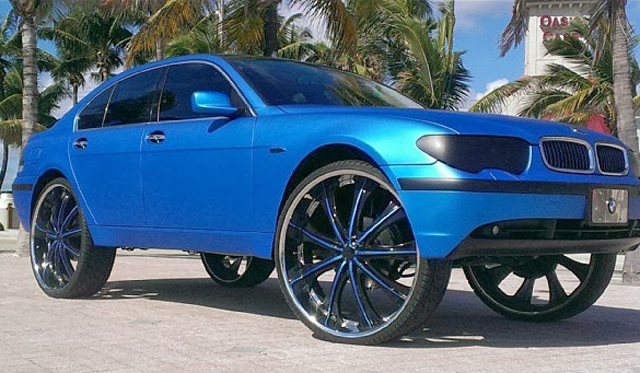 The BMW 7-Series was originally designed as a car for the wealthy who loved nothing more than cruising in one of the world's most luxurious cars. However, the team from Tate Design recently got their hands on the following BMW 7-Series and utterly destroyed it.
[youtube]http://www.youtube.com/watch?v=lpPgehadKak[/youtube]
To start with, the following BMW 7-Series has been fitted with massive wheels which we can only imagine to be around 30-inch in size. These wheels feature blue pinstripes, black spokes and chromed outer lips. Sitting on top of these ugly as hell wheels is a matte black 7-Series complete with blacked out headlights and taillights.
On a scale of 1 to 10, let us know below just how much this car has been ruined. We'd give it a solid 12!