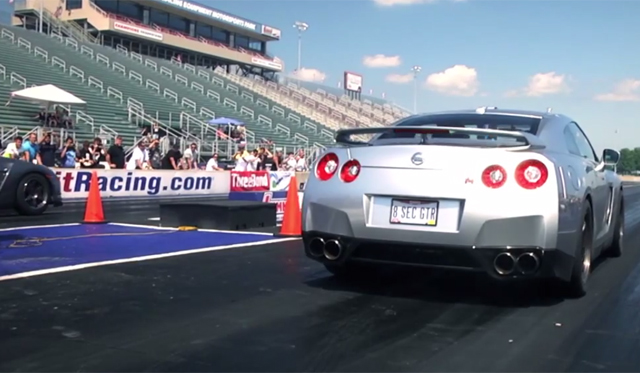 The Nissan GT-R by AMS Performance particularly the Alpha 16 package has shown off its performance capabilities yet again during the 21st annual Buschur Racing EVO/DSM/GT-R Shootout. The most impressive times came from the Nissan GT-R of John Shepard, the President of Sheptrans, who fitted the upgraded AMS Performance kit to his car.
This event represented the maiden voyage of Shepard's Alpha 16 Nissan GT-R after recently being updated from the Alpha 12 kit just a week before the event. As the following video shows, the car performed exceptionally well despite having very few miles on the clock in its latest specification!
[youtube]http://www.youtube.com/watch?v=YwYAITo93pA[/youtube]
With the help of some incredible Nitto NT05R drag radials borrowed from a fellow Alpha Nissan GT-R owner, Shepard managed to launch the car to 96km/h (60mph) in just 1.78 seconds and a 96km/h to 209km/h (60-130mph) in just 2.91 seconds! By the end of the run, the car completed the quarter mile in just 8.28 seconds at 173mph.
Such a sprint to 60mph makes this particular GT-R one of the fastest in the world!
However, if reports about the Nissan GT-R Nismo prove to be accurate then it won't be far behind! According to company insiders, Nissan is aiming to make the 2014 Nissan GT-R Nismo the world's fastest accelerating production car. Yep, that means faster to 100km/h than cars such as the Ariel Atom 500 and the Bugatti Veyron Super Sport. However, Nissan isn't just aiming to eclipse the current benchmark of 2.5 seconds, and instead wants to absolutely destroy it. In fact, it's believed Nissan is aiming for a sprint to 100km/h in 2 seconds flat!