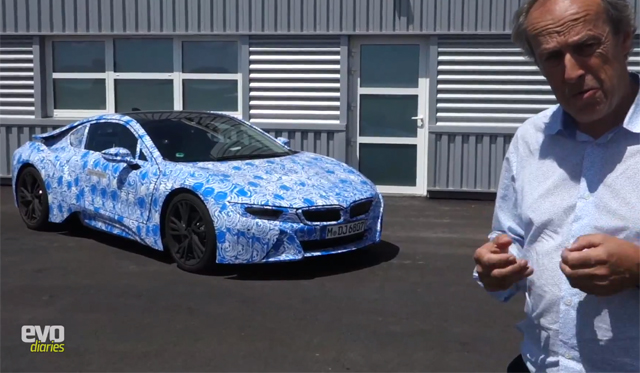 Evo Magazine's Harry Metcalfe recently had the rare opportunity to drive one of the few BMW i8 prototypes on the track and the advanced hybrid German sports car certainly seems like an impressive piece of engineering!
First and foremost, the BMW i8 features an aluminium Drive module incorporating a traditional internal combustion engine, two electric motors, a battery as well as all the electronics. That traditional engine is a mid-mounted 1.5-liter turbocharged three-cylinder powertrain pumping out an impressive 231hp and 236lb-ft of torque at the rear wheels.
[youtube]http://www.youtube.com/watch?v=DTQ7to-7jw8[/youtube]
However, BMW wasn't entirely satisfied with those figures and also fitted an electric motor up front which on its own produces 131hp and 184lb-ft of instantly available torque. As a result, the BMW i8 produces a total of 362hp and 420lb-ft of torque and is good for a sprint from 0-100km/h in just 4.5 seconds and an electronically limited top speed of 155mph.
Fortunately, BMW didn't focus all their energy on the powertrain and spent a considerable amount of time ensuring the BMW i8 is lightweight. This aim has been achieved thanks to a carbon fiber module making up part of the chassis and weighing 50% less than steel. As a result of this and BMW's incredible engineers, the BMW i8 achieves a perfect 50:50 weight distribution.