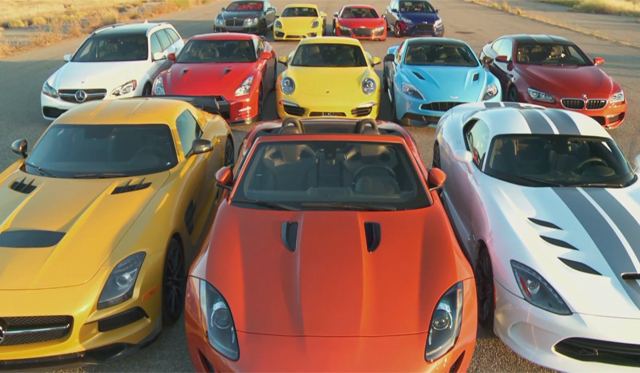 In the past, the team at Motor Trend have put together two stunning video entitled the 'World's Greatest Drag Race' featuring some of the world's performance cars in one epic drag race. For the World's Greatest Drag Race #3, the team gathered together 12 of the most potent performance cars for 2013.
[youtube]http://www.youtube.com/watch?v=8k1DIrfNr48[/youtube]
In total, they're worth almost $1.9 million and altogether and deliver over 6100hp! Included in the following video are the Nissan GT-R Track Edition, 2013 SRT Viper, Jaguar F-Type V8 S, Aston Martin Vanquish, Mercedes-Benz E63 AMG S, Bentley Continental GT Speed, Porsche Cayman S, Audi R8 V10 Plus, Mercedes-Benz SLS AMG Black Series, BMW M6, Ford Focus ST and a Porsche 911 Carrera 4S!