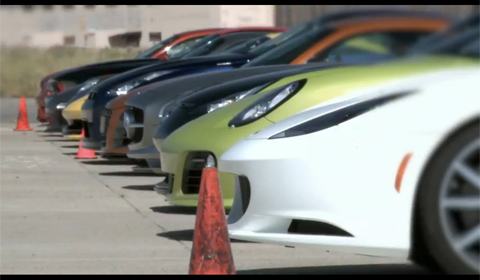 Drag racing could be fun, especially with eleven supercars featuring a combined 82 cylinders, nearly 5,000 horsepower and a total price tag of $ 1.5 million.-
The guys from Motor Trend Magazine were investigating what would be the best driver's car. One part of their investigation took place on an empty airstrip where all the super cars took part a simultaneous drag race.
The cars they brought out to the quarter-mile were a Lotus Evora S, BMW 1-Series M Coupe, Porsche Cayman R, Ford Mustang Boss 302 Laguna Seca, Porsche 911 GT3 RS, Chevrolet Corvette Z06/Z07, Lexus LFA, Mercedes-Benz SLS AMG, Audi R8 GT, Ferrari 458 Italia and the Nissan GT-R .
Who wins? Check the video below to see which car crossed the finish line first.
[Via Motor Trend]