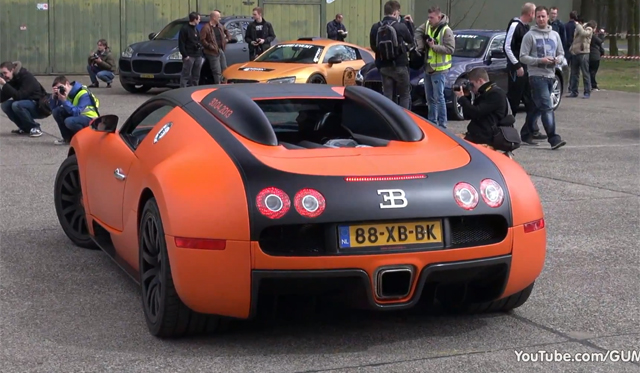 There's no denying the fact that the Bugatti Veyron is one of, if not the greatest supercar produced in the past decade and while it's speed and luxury are world-class, the Bugatti Veyron has always suffered from a severe lack of exhaust noise.
On paper, an 8.0-liter W16 engine featuring four turbochargers seems like the perfect recipe to create one of the best sounding supercars ever created. However, the four turbochargers severely restrict the exhaust note of the Bugatti Veyron thus making it significantly quieter and less outlandish than many of its rivals.
Thankfully, infamous tuning company Mansory has come to the rescue with its Bugatti Veyron Mansory exhaust system which turns the Bugatti Veyron into an entirely different beast from an auditory perspective. Gumbal on YouTube was recently able to film the following matte orange and matte black Bugatti Veyron fitted with the aforementioned Mansory exhaust system and the difference between this and a stock Veyron being quite amazing.
The following video also includes a high-intensity drag race against the Lamborghini Gallardo LP560- Bicolore and despite the Lamborghini featuring a stock exhaust system, it does completely overshadow the Bugatti Veyron with the Mansory exhaust system in the noise stakes.
However, thanks to its 8.0-liter quad-turbocharged W16 engine, the Bugatti Veyron can hit 62mph in just 2.5 seconds and consequently defeats the Gallardo in the above drag race.