The 2014 Rolls Royce Wraith is the ultimate definition of luxury on wheels. The BMW-owned British luxury vehicle manufacturer takes around 450 hours to produce each car, mostly handcrafted that is. Bespoke vehicle tuner Mansory have however managed to raise the bar of luxury even higher, presenting us with the Mansory Rolls-Royce Wraith Palm Edition 999.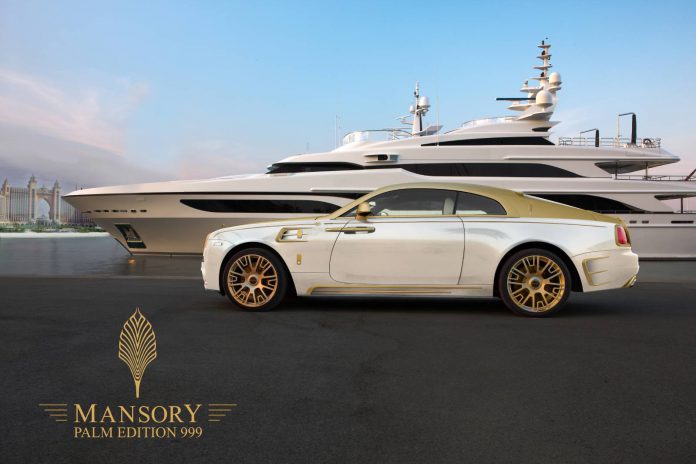 The first thing that raises questions when looking at the official name, is the number 999. The number 9 stands for the exact amount of vehicles Mansory will produce, making it one of the most exclusive cars available worldwide.
Mansory are known for their extensive work on the aesthetics of the cars they take into their customization facility. Sometimes the exterior undergoes subtle changes, though usually their work is viewed as more blatant.
Upon first view, the Mansory Rolls-Royce Wraith Palm Edition 999 seems to have gotten a true golden makeover. The two-tone paint job combines both white and gold, giving the car an even more exclusive and pristine look. The bodywork underneath has been entirely redone in carbon-fibre, that includes the front fender, side skirts and the roof spoiler.
Mansory Rolls-Royce Wraith Palm Edition 999
The true luxury that distinguishes the Mansory Rolls-Royce Wraith Palm Edition 999 from the original Wraith, is found in the details. The original badges and logos are replaced with exclusive plaques that are, of course, finished with 999 pure gold. If desired, buyers can opt for gold plating on all parts with a metallic surface. For instance, the door handles, trim and sill guards and the radiator grill could be subject to the same 999 golden makeover.
With all the bells and whistles on the exterior, you'd almost forget about what's under the hood. The twin-turbo V12 outputting 623 hp also received some upgrades from the Bavarian luxury tuner. Mansory managed to increase the total output of the twelve-cylinder from 632 PS / 800 Nm to 740 PS / 1,000 Nm. This power upgrade means that the golden coach is capable of reaching a 100 km/h from a standstill in just 4.4 seconds. Additionally the top speed of the Rolls has been increased from 250 km/h to 300 km/h.
As a finishing touch, the true luxury automobile features 22-inch gold-colored alloy wheels. We wouldn't be surprised if some, if not all of the Mansory Rolls-Royce Wraith Palm Edition 999 find their way to some of the oil-rich cities in the Middle East.