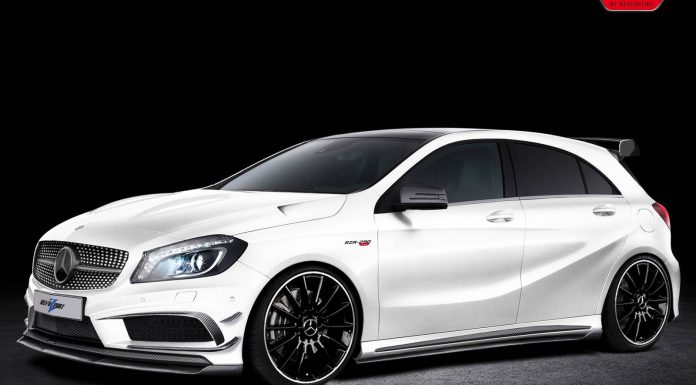 Hong Kong based tuner Revozport has revealed its new project based on the Mercedes-Benz A-Class models set to be applied across all A200 and A250 models. The project has been named RZA-290 since it raises the base power found in the A250 from 211hp to 290hp. This has been achieved through revised engine mapping provided by their new German partner, the process is reversible.
The new RZA-290 aerokit comes with a front add-on splitter, an aggressive canard that helps rush more air to the radiator and oil cooler. It has side skirts meant to side wind downforce for better drivability and a lightweight carbon bonnet with vents to cool the engine bay. The rear was fitted with a diffuser which was shaped to allow the square quad exhaust tips to fit it.
There is an additional 3D underspoiler fitted to create extra downforce. The GT rear wing completes the rear work. The rest of the parts include a carbon mirror cover, diamond carbon grille and carbon engine cover.
As for the pricing, the RZA complete aerokit for W176 with AMG bodykit (Stage 1) costs $3300, the RZA complete kit with Stage 2 and without GT Spoiler costs $5900 while that with stage 3 and final costs $7500.