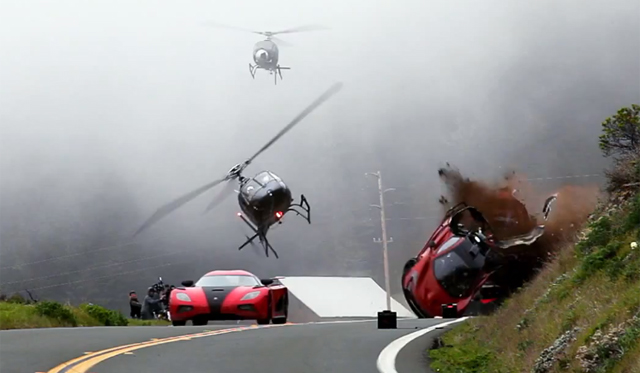 The very first teaser for the upcoming Need For Speed 2014 film has just been released featuring the movie's director Scott Waugh narrating about the film with some truly incredible action shots completing the following clip.
As we previously told you, the Need For Speed film features a selection of the world's best supercars, and even though each one of them is simply a replica of the real thing, as the following clip shows, all of them look quite accurate to the originals and even feature realistic exhaust notes! Some of the notable supercars to feature in the upcoming Need For Speed film will be a Koenigsegg Agera R, McLaren P1, Bugatti Veyron Super Sport, GTA Spano and Lamborghini Sesto Elemento all featuring.
One of the few real performance cars to feature in the Need For Speed film will be a one-off 2013 Ford Mustang which sports a 900hp all-aluminium 5.8-liter supercharged V8 engine produced by Ford Racing. The car will be driven by the movie's main star, Aaron Paul well known for his role in popular TV series 'Breaking Bad'.
As you'll soon see, the following clip also seems to feature some of the first official film-ready shots from Need For Speed, with an horrific crash of a Lamborghini Sesto Elemento clipping and sending a McLaren P1 to its death featuring.