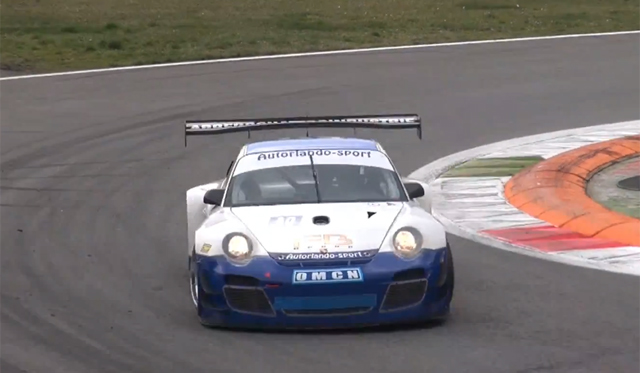 While road-going specification Porsche's may not produce the insane exhaust notes of its rivals from Italy, as the following video from NM2255 on YouTube shows, Porsche certainly knows how to create an incredible sounding Porsche racer.
The following video is of a white and blue 2013 Porsche 911 GT3 R speeding around the legendary Monza Formula One circuit where it's flat-six engine simply echoes throughout the entire facility literally sending shivers down your spin.
Separating the race-ready 2013 Porsche 911 GT3 R from the standard 2013 Porsche 911 GT3 is completely unique bodywork including brand new front and rear bumpers, wider fenders, different side skirts, a massive rear wing, four front canards, a massive rear diffuser and a completely stripped out interior. As a result of these visual and aerodynamic improvements, the 2013 Porsche 911 GT3 R now measures about 2 inches wider at the front and rear and comes fitted with small 12 inch racing wheels.
Under the hood, the 2013 Porsche 911 GT3 R features the same 4.0-liter flat-six engine producing 500hp. This powerplant has then been mated to a six-speed sequential transmission driving the rear wheels. Thanks to the dramatically lower overall weight of the 2013 Porsche 911 GT3 R compared to the road-legal version, it can accelerate and corner significantly faster.