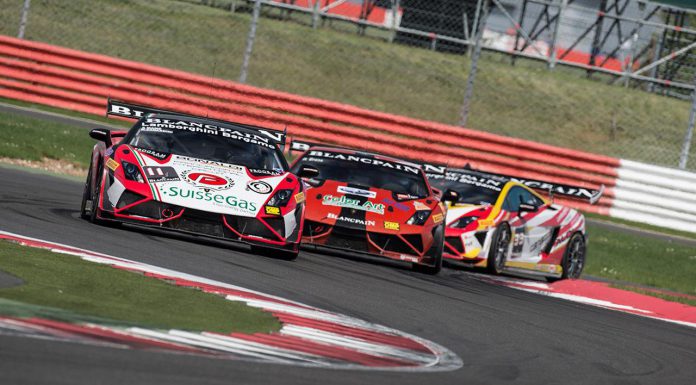 Silverstone, June 2, 2013. The Lamborghini Blancpain Super Trofeo Series has proven to be a success again during the second round of the race this season at the Silverstone circuit in UK. There were two races with one being held on Saturday while the other was on Sunday. During Saturday's race, Cédric Leimer took the win comfortably while ambitious Andrea Amici was forced back to the grid after a puncture.
On Sunday and as you would expect, Leimer and the season opener winner, South African Adrian Zaugg had to battle it out for the lead. Meanwhile, Amici was far behind in the grid with no hopes of catching up with the leading bulls. But all was not lost as his silver lining lay in an incident that happened during the race. The #7 Aviatrax by Santéloc car driven by Alessandro Bortesi crashed and damaged the Armco barriering. The race was stopped for two laps to allow for repairs.
Meanwhile, Amici climbed 12 positions up from 16th getting up to fourth in just under four laps. Another racer, the Imperiale driver, Andrea Palma, had climbed from 20th to eleventh. Amici's luck showed up when Zaugg stopped tohand over the car to his teammate and narrowly he managed to skip to the lead.
And that was not all, more drama and drops in position went ahead as seen in the Automobili Lamborghini Racing Team Germany car which dropped from top three to 14th. This was also during a driver change. Bad luck loomed upon Aristotellis Varvaroussis who suffered a car radio problem. He missed team instructions to pit and was slammed with a 30s time penalty-he dropped from 4th to 14th.
The top three were Amici followed closely by Leimer and an outstanding performance by who finished third from 14th!