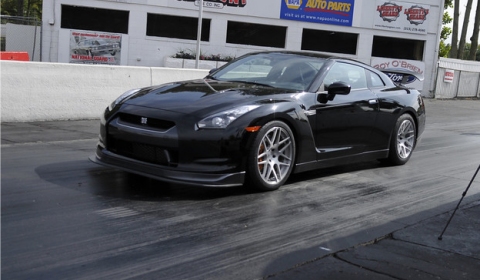 As you might know, Switzer Performance paid a visit to Michigan's Milan Dragway last week. The Switzer crew set off from Ohio with a trio of high-horsepower, wikked-fast customer R1K-X GTRs for a day of standard "shakedown and evaluation" drives. The question on everyone's mind by now is obvious: How fast were they?
Fast enough to bring home a new 93 octane (98 RON) quarter-mile GTR record of 9.42 seconds at 153.30mph – that's how fast! In addition to that 9.42 second GTR record, a second Switzer R1K-X GTR ran a positively blistering 8.99 second pass at 165.54mph on race gas a few minutes later, earning its place in the growing "8 second club".
Record-setting performance from customer cars is one of the things that sets Tym Switzer's Oberlin, Ohio-based operation apart from most tuning firms, who rely on "shop cars" to generate the headline figures. Switzer, though, is one of the rare firms that doesn't have a shop car.
One of the new features Switzer was evaluating at the Milan trackday in particular helped the cars set fast times: the new Switzer Signature 6 Wheel Set. We'll have more on that, tomorrow, but it's worth noting that the fastest times were achieved on the cars equipped with the optional wheel/tire package.