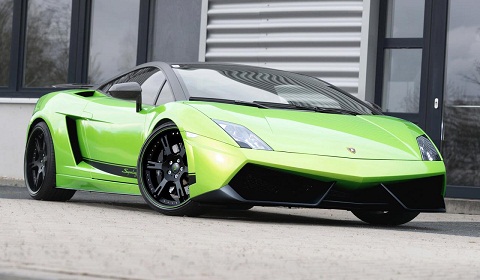 Wheelsandmore have released pictures of their latest project, the Lamborghini LP620-4 "Green Beret". As the name suggests, it is based on the current Lamborghini Gallardo Superleggera LP570-4. The name change signifies the modifications that have been made to the car.
The performance of the Superleggera has been improved by adding a handmade, stainless steel exhaust system with remote-operated valve control, special carbon-frame airfilters and a remapped software electronics system. Together this has enhanced the output of the 5.2 liter V10 engine with an extra 50hp and 50Nm of torque.
Wheelsandmore have also added a set of their own 6Sporz² wheels measuring 9×20 inches with 245/30/20 tyres at the front and 11×20 inches with 295/25/20 tyres at the rear. Continental Sport Contact rubber was fitted to this vehicle. The rims were finished in a matte black trim at the owners request.
The final modification made to this car is the special coilover kit. It features adjustable rebound and compression, and a hydraulic lift action which raises the body by around 1.77 inch. Wheelsandmore call this LCS (level-control-system). The only thing this car misses is Wheelsandmore's upgraded brake system.
The modifications to this car appear relatively subtle, yet they really do make a difference. Let us know what you think in the comments box below.