It seems that Nissan have been finding the limits of the 2013 Nissan GT-R in spectacular style. These images reveal the moment when the 2013 Nissan GT-R hit the Armco at Schwalbenschwanz on a relatively quiet day the Nürburgring. Fortunately, the only damage was to the car and the barrier.
Nissan's GT-R's were in action last weekend at the Nürburgring 24 Hours where they picked up 30th place overall and first in the SP8T class. These cars were Nissan GT-R Club Track Edition's and featured the same components as the road legal showroom variety cars with the addition of stripped-out interiors, some minor aero mods and full roll cages. A second GT-R Club Track Edition also finished 99th position overall and second in class.
The car shown in the pictures was being driven by a Nissan test driver. It's unclear what they were testing on the car or whether this was simply an attempt to set a faster time for the 2013 Nissan GT-R.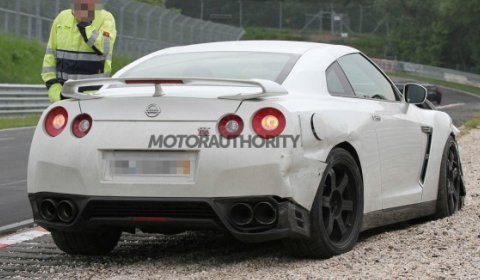 [Via MotorAuthority]