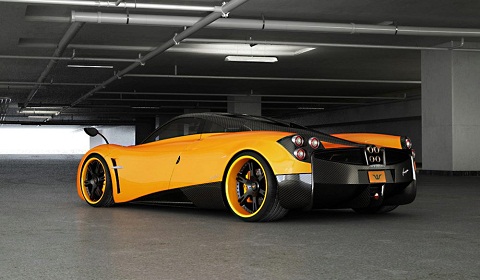 Wheelsandmore released a rendering of the Pagani Huayra wearing a set of their own custom wheels. We thought we'd share it with you as it gives us a new perspective on the Huayra. Wheelsandmore added a new orange two-tone paint job accented with a naked carbon fiber body. The wheels are rendered to match with orange walls and a carbon fiber face.
The Pagani Huayra was released back at the 2011 Geneva Motor Show. Customers will start receiving their cars soon, with over 85 orders on the books, Pagani should be busy for a while. Whilst these renderings probably won't transfer into a real life finished product, the colour layout could potentially be ordered through the factory. We've seen Zonda's with this layout before!
Just to refresh your memory, the Pagani Huayra is the successor to the Pagani Zonda. The Zonda is still being produced as a bespoke product by Pagani engineers, however, the Huayra will be Pagani's main production model. It features a 6.0 liter Mercedes-AMG sourced twin-turbo M158 V12 with 700 horsepower and 1,000Nm of torque. Weight will be pegged at 1,350kg and top speed will be 370km/h. Owners will pay 849,500 euros, plus taxes for the car.
Wheelsandmore offer a range of wheels for a variety of different vehicles. These particular wheels are the 6Sporz² ultralight forged wheels. They feature a three-piece, hand built construction and can be fitted with an unlimited colour and surface finish tailored to individual tastes. Prices start at 8,277 euros per set for 20 inch rims and 9,916 euros per set for 21 inch rims.
Check a high resolution version of the render right here.