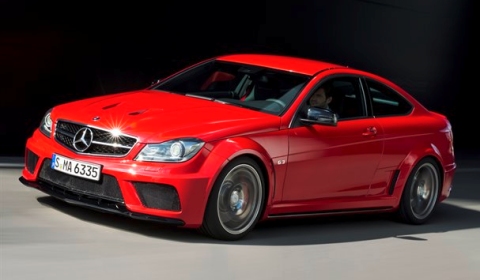 German magazine Sport Auto has revealed an independently tested time for the Mercedes-Benz C63 AMG Black Series. In what has become tradition for most modern sports cars, Sport Auto tested the new Black Series and got a 7 minute and 46 second time out of it. That's a 15 second improvement over the standard C63 AMG Coupé and a two second improvement over the BMW M3 GTS time.
During the test the C63 AMG Black Series was fitted with Dunlop Sport Maxx Race M0. The magazine found the weight of the car to be 1,748kg compared to the standard coupé's 1,770kg. Interestingly, the Black Series was two seconds slower than the new 991 Carrera S. The car tested had Mercedes aerodynamics package and the track package.
Below you will find a video of the AMG Black Series lapping another track, the Laguna Seca Race Way.
[Via BenzBoost]