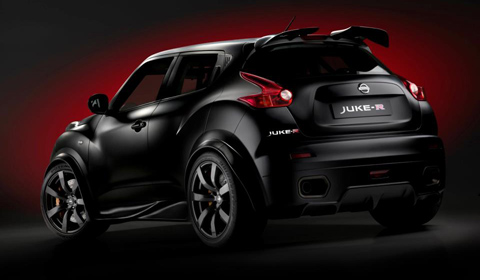 Nissan has once again shed more light about the Juke-R, the concept car that combines the elements of a crossover with the power, speed and according to the Japanese carmaker the handling of the GT-R sports car.
The matt black Nissan Juke-R is powered by the GT-R's 3.8 liter engine, which offers an impressive 480bhp and 588Nm. Large vents in the front bumper provides cooling for the twin-turbo V6, while submerged ducts in the bonnet help draw air through the engine bay.
Flared wheel arches cover the GT-R's 20 inch RAYS forged alloy wheels to merge with a new sculpted skirting. At the back of the car a dynamic split rear wing provides the supercar crossover with down-force, while twin pentagonal exhausts emit the GT-R's evocative engine note.
The interior is modified as well. The Juke's motorcycle-inspired console is at the centre of a modified interior cabin fitted out to go racing complete with twin race seats, full race harness and a race-spec roll cage. GT-R steering wheel, pedals, dials and 7-inch touch-screen display are built into a modified version of Juke's dashboard.
Two versions of the Juke-R are being created – one in left-hand-drive and one in right-hand-drive. But the Juke-R will never make it into production, the car is an one-off and road legal concept car. The Juke-R is expected to complete its first tests in this month.