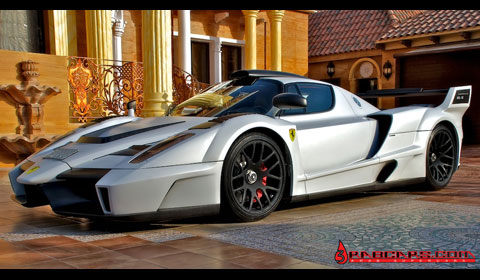 In January 2010 Uwe Gemballa presented the Gemballa MIG-U1 based on the Ferrari Enzo. Ambition was set to produce 25 MIG-U1s but nearly two years later the MIG-U1 remains an unique one-off. The only MIG-U1 in the world is registered in Dubai and our friends at 3rabcars.com did an exclusive photo shoot with it in Dubai this week.
The Gemballa MIG-U1 features a front skirt that has a spoiler lip adding 77lbs of additional downforce, door extensions to the diffuser and rear spoiler, a rear flap that lowers itself at speeds of 75mph, and an optional electro-hydraulic height adjustment that can lift the car up by 1.7 inches is available. The supercar has a V12 engine and a semi-automatic gearbox producing 700hp. Limited to only 25 – one has been build so far – it does 0-60 in 3.2 seconds and has a top speed of 218mph.
Would like to know more? Click right here!