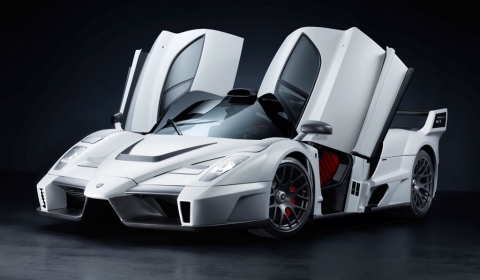 Gemballa has officially released its interpretation of the Ferrari Enzo. The tuner from Leonberg, Germany has turned the supercar from Maranello into the Gemballa MIG-U1. The brand new vehicle is an individually produced edition. Gemballa has drastically re-engineered the aerodynamics and increased the engines performance.
One of these parts is the front spoiler lip generating additional downforce of up to 35 kilograms at the front axle, the newly designed rear spoiler generates as much as 85 kilograms more downforce on the rear wheels. The spoiler's flap lowers when the MIG-U1 reaches a speed of 120km/h. But there is more, a air duct system providing cooling air to the passenger cabin, the brakes and the engine.
The MIG-U1 has grown broader by 80 millimeters at the front and 100 millimeters at the back axle. An optional electro-hydraulic height-adjustment (HLS) is available lifting the body by 45 millimetres at the front- and rear axle. By pushing a button or by reaching 80km/h, the MIG-U1 lowers itself to its original level. The handling and driving comfort is finished by adding a multiple adjustable sports suspension.
The forged wheels Gemballa GTR Racing are made from a massive light alloy block. At the front, the 10×19 inch rims hold tyres in the dimension 265/35, while the back axle transfers the power of the engine through 13×20 inch rims with 335/30 tyres.
The twelve cylinder engine gets an optimized motor management and a specially adjusted exhaust system creating a performance output of 700hp (515kW). The four-pipe system with pneumatic flap control is added to the sports catalyst and the final part to the technical package.
The inside get's some decent changes as well. The MIG-U1 gets designed seats, a custom-made center console and a sports steering wheel with leather-ultra suede combination. All interior components are lined with leather and ultra suede. Buyers can choose for an integrated high-end multimedia system offering a seven-inch touch screen, navigation, DVD changer and an iPod connection. The 950-Watt amplifier operates the high frequency ranges in the cockpit front, the 165 millimetre large membrane on the door linings and the subwoofer between the seats.
Gemballa hasn't unveiled the pricing of the vehicle itself. However, every single Gemballa MIG-U1 is individually adjusted. This ensures that there will not be any identical cars!
Also check their official web special for more information here.