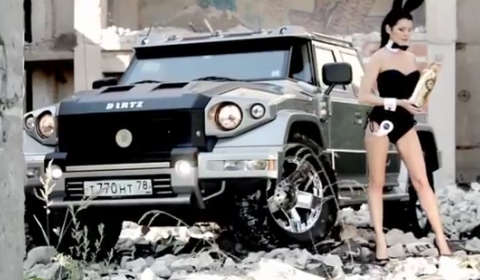 Dartz in Playboy magazine, do we need to say more! The Latvian luxury car builder handed their latest Dartz Prombron L4P Ladies.Only, the world first "Ladies Only" three-door Kapsula Kupe, to the American men's magazine for a photoshoot.
The lovely Playboy bunny in the video – name unknown – was positioned next to the armored truck and holds the RussoBaltique Vodka. The bottle is nothing more than 1,7 liter of Vodka inside a 7,8 kilograms Golden bottle. The drink is best served with RussoBaltique Caviar by Mottra, according to Dartz.
Looks like an epic combination; Playmate, Vodka and Caviar on the backseat of this armored truck.