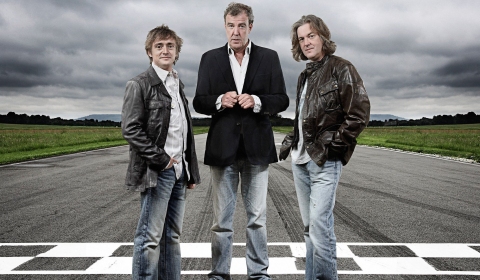 The Top Gear team returns for Top Gear Season 17 Episode 3 at BBC2 and BBC HD tomorrow at 8pm. In the third episode of this season Jeremy Clarkson and Richard Hammond look at some second hand bargains for the price of Britain's cheapest brand new car, the 6,995 pound Nissan Pixo. James May tests the toughness of the new Range Rover Evoque by driving it through Death Valley, and then gauges its stylishness by using it to chauffeur a global megastar across Las Vegas.
In case you wondered what happened to the Jeremy Clarkson review of the McLaren MP4-12C that was promised for the second episode, well they probably needed some time to make a new one or re-edit it to exceed Fifth Gear's test of the McLaren MP4-12C versus the Ferrari 458 Italia. Not surprisingly the Top Gear review in Episode 3 of Season 17 features the exact same cars and venue: the Ferrari 458 Italia vs the McLaren MP4-12C at the Top Gear test track.
Also in Top Gear Season 17 Episode 3: The Top Gear news and Reigning Formula 1 world champion Sebastian Vettel is the star in the Reasonably Priced Car.