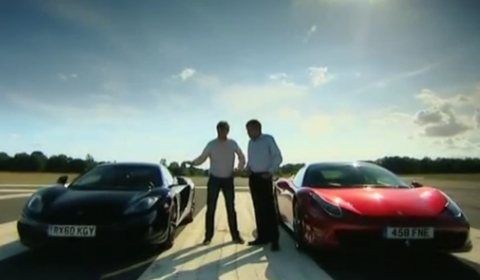 As stated before Fifth Gear aired the world's first TV test of the brand new McLaren MP4-12C yesterday. Jason and Tiff tested it against the Ferrari 458 Italia at the Top Gear test track, one of the test tracks of the McLaren.
Via one of our readers we found the episode on YouTube and we embedded it below together with some additional bonus material. After looking at all four videos, the Brits have a problem, because to get the best out of it, "you have to drive it the way McLaren programmed it", and both did not seem to be matched up with the British sports car. The final statement by the presentators says it all:
There can only be one winner and it is a clear winner; the Ferrari!
Another win for the Italian! It is 0-2. Let's wait and see what the guys at Top Gear will say…