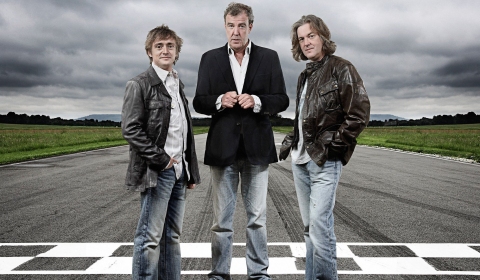 Top Gear Season 17 Episode 2 airs tomorrow, Sunday July 3rd 2011 on BBC2 and BBC HD at 8pm GMT. In this new second episode of season 17 Jeremy Clarkson, Richard Hammond and James May are in Italy to take part in a series of tricky challenges and increasingly loud arguments as they attempt to find the world's best hot hatchback. With Clarkson in the Citroen DS3 Racing, Hammond championing the Fiat 500C Abarth and May making the case for the Renault Clio Cup, the trio attempt to navigate their way around baffling Italian towns and take part in a scavenger hunt before heading up to Monte Carlo where they're faced with a surprise test of their cars' performance.
The Top Gear boys had been spotted in Italy already when shooting the scenes for Top Gear Season 17 Episode 2 in a small Italian village.
Also in Top Gear Season 17 Episode 2: James May is out on track with the Aston Martin Virage and puts it up against the Aston Martin DBS and Aston Martin DB9. Jeremy is out on the track in the McLaren MP4-12C supercar, while petrolhead comedian Ross Noble is the star in the Reasonably Priced Car. Let us know what you think of Top Gear Season 17 Episode 2 by telling us your review in the comments below.
Update: Jeremy's review of the McLaren MP4-12C is postponed for unknown reasons.
Update 2: In case you missed it; Top Gear Season 17 Episode 2 is available as torrent download now.