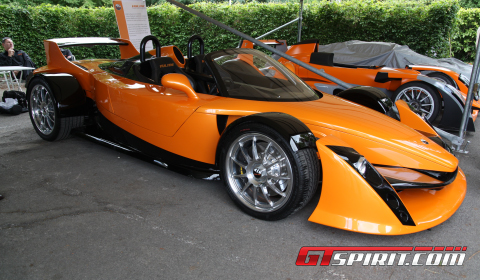 Hulme Supercars Limited has been invited by Lord March to display and demonstrate the Hulme CanAm Spyder at this year's Goodwood Festival of Speed. The car is one of only 55 invited supercars on display making its official debut. It is the first Australian designed and built supercar to be driven on the famous Goodwood hill-climb.
The Hulme CanAm Spyder is named in honour of Denny Hulme, New Zealand's only Formula One World Champion and double CanAm Champion. It is a high performance F1-inspired (a la Caparo) motorcar and only twenty examples of the CanAm Spyder will be built ensuring is rareness and exclusivity.
The vehicle has been designed by New Zealander's and will have the latest crash absorption systems in place and a fully developed ABS electronic driver aid system to provide a safe driving experience. To achieve the 980kg vehicle weight it will use a carbon/titanium/kevlar composite chassis and composite body panels.
Powered by a hand-built, supercharged, 700hp, Chevy V8, it is built as a roadgoing car and it will comply with the European Small Series certification for use in all 27 EU states plus many others that accept EU certification.
The company searches for investors to create a strong basis for a full series production of the vehicle.