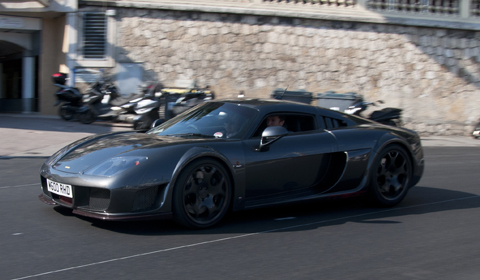 The first example of the new Noble M600 will be delivered to the first customer next month. The hand-built supercar will be built at the rate of one per month.
Peter Boutwood, Managing Director of the British car maker has said the company had a "full order book". Interestingly, he insists that potential customers try the car before they buy. Customers are also allowed to give the interior and exterior of their car any color scheme without any extra costs.
The M600 is powered by a 4.4 liter V8 engine which is coupled to a pair of turbochargers, providing 650bhp and 820Nm of torque. Thanks to the Adaptable Performance Control (APC) function the owner can select the power output to reflect both the location and driving conditions. These settings adjust the power output, tailors the boost curve and throttle response.
There are thee APC settings available: Road which represents 450bhp and supports full traction control. A bit more powerful is the Track setting which delivers 550bhp. This setting features a little less intrusive traction, a steeper boost curve and more initial response to the throttle. The most powerful setting is Race, which offers the full potential of 650bhp.
Sprint time from standstill to 100km/h will be done in just 3.0 flat and the sprint will continue up to a top speed of 360km/h.