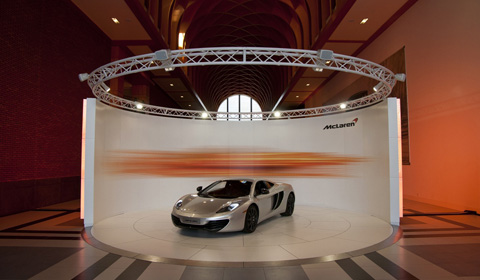 McLaren Group plans to spend as much as one billion dollar in developing and marketing a new range of sports cars to take on models from Ferrari and Lamborghini. In order to achieve these ambitions, the company from Woking in the United Kingdom plans to unveil thirteen models and variants in the coming years.
McLaren opened its first dealership yesterday at London's One Hyde Park. By the end of 2011, McLaren will have 35 bespoke retailers in 19 countries worldwide, including nine in the largest market for luxury cars, the United States.
McLaren has already invested about $ 320 million to develop the MP4-12C. A special track version of the car was unveiled last month. The MP4-12C is already a huge success, McLaren has received up to 2,000 orders and there is currently a two year waiting list.
To gain capital and reduce debt Ron Dennis, CEO of the McLaren Group, said he intends to sell as much as 47 percent of the company by the end of the year. Dennis, who hired Credit Suisse Group AG (CSGN) to manage the equity sale, said it was progressing "a bit slower" than he envisaged. "We don't like debt," he said. "Investors have got to be patient but there is very clearly a profit coming after three or four years." McLaren is aiming to reach revenue of 1 billion pounds within five years.
[Bloomberg via Autoblog.nl]