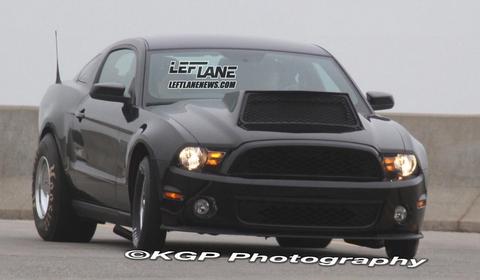 Ford was one of many car manufacturers that had hard times during the financial and economical crisis, but now it seems that the Americans are recovering from all their worries, as this Mustang was spied testing on a dragstrip in the US.
This is of course not a trial for Ford, as they have offered a factory-produced dragstrip machine in the form of the Mustang Cobra Jet in the past. Accommodated with slicks out back, skinnies up front and a whole lot of power, this is a purpose-built machine without any doubt.
As if the power-output isn't clear enough with that view, the new Cobra Jet also comes with a ridiculous big ram air hood. When looking closer you'll also notice the massive drag slicks stuffed in the rear wheel wells, while the "just enough" skinnies are providing steering in the front.
Under the hood you'll find a 5.4 liter supercharged engine based on the 2011 SVT Mustang with two supercharger options, either a 2.3 liter TVS unit or a 4.0 liter Ford Racing Whipple supercharger. The new model also comes with an aluminium block engine, standard automatic transmission, double keyed crankshaft, Manley H-beam connecting rods, low-drag racing brakes and optimized spring rates for the front and rear.
[Via leftlanenews]