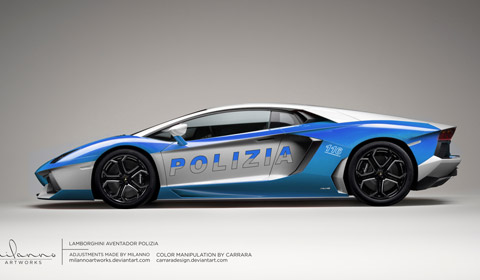 For quite some time now the Italian Polizia has multiple Lamborghini Gallardo police cars received as a gift from the Italian supercar manufacturer.
With the arrival of the Aventador we wondered what an Lamborghini Aventador Polizia would look like, our friend Milanno Artworks in collaboration with CarreraDesign created four renders of the Lamborghini Aventador Polizia.
The Lamborghini Aventador Polizia should be equipped with a defibrillator and refrigerated container for the transport of organs. All police lights (LED technolgy) are hidden under the air intakes and on the dashboard. This as to not affect the Aventadors performance by creating additional drag caused by the signal lights on the roof. It is still to be seen if a Lamborghini Aventador Polizia will be build by Lamborghini but the idea is there.