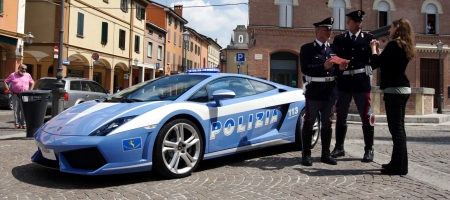 The world's coolest police car was the Lamborghini Gallardo. The "original" Gallardo left the Italian police after four years of usage and got replaced by an even cooler one; the 2009 Gallardo LP560-4 Polizia. Lamborghini donated the car to the head of the Italian State Police, Prefect Antonio Manganelli at the end of 2008. The car is now used by the Lazio Highway Police Department. Italiansupercar.net got the chance to shoot some wonderful pictures of the only supercar you do not want to show up in your rear view mirror.
The Gallardo LP560-4's predecessor was in service in Rome and around Bologna. One of the two versions has now a nice place inside the Lambo museum at the Factory. The new Gallardo is equipped with an aerodynamically optimized police beacon and LED signals on the front, sides and rear of the body work. There is even a video / photo system which works in conjunction with GPS data to determine the speed of the vehicle being pursued. The vehicle also features a specialized system for safe transportation of donor organs in case of a medical emergency.
More pictures can be found here.