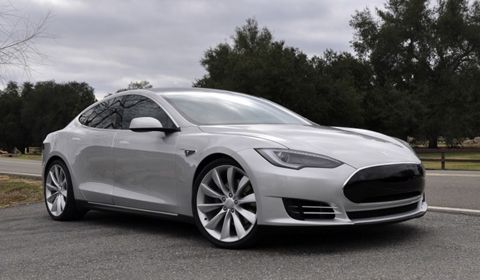 Tesla is planning to reveal a prototype of the so-called Model X crossover by the end of the year and will end production of the Tesla Roadster in December. Also more details regarding the upcoming midsize sedan has emerged.
According to paperwork filed to the United States Securities and Exchange Commission (SEC) the California based manufacturer of electric vehicles will transition to more practical cars. This paperwork also offers a great perspective on the long term future plans of Tesla.
In an initial public offering by issued by Tesla to help fund development of the Model X, the company said it was planning to build four different kind of vehicles based on the Model S platform, including the initial car — a midsize sedan — followed by a convertible, a van and a crossover/SUV.
But the latest SEC filing suggests Tesla may have combined plans for the van and the crossover into a single vehicle, the Model X which could make its first public appearance as a concept at the Los Angeles Auto Show. Tesla CEO Elon Musk earlier confirmed plans to introduce a battery-powered crossover, the Model X, in 2014, about two years after the mid-2012 launch of its midsize Model S sedan.
According to the SEC filing there are several drivable prototypes already complete and customers can choose from a variety of range options from 160 miles to 300 miles on a single charge. Also in the filing Tesla states:
We anticipate that the initial units of the Model S will be introduced with a Signature Series, which will have range capability of 300 miles and include certain colors and options, some of which may not be available in the general production of the Model S. We also plan to offer the capability to fast charge in as little as 45 minutes and the ability to rapidly swap out its battery pack at commercial charging stations.
Tesla is targeting to produce 20,000 Models S vehicles annually, with prices ranging from $ 57,400 – $ 77,400, depending on trim level and performance. Tesla began testing in January and as of the end April and the company has received approximately 4,600 customer reservations of the Model S.
While in the near future most of the electrical cars will be very exclusive, think of the Audi R8 e-tron, BMW i8, Jaguar C-X75, Mercedes SLS AMG E-Cell or the Porsche 918 Spyder it has become clear that Tesla isn't aiming at the league of sportcars anymore, instead they will emphasize on more practical cars.
[Via Motor Authority & Insideline]