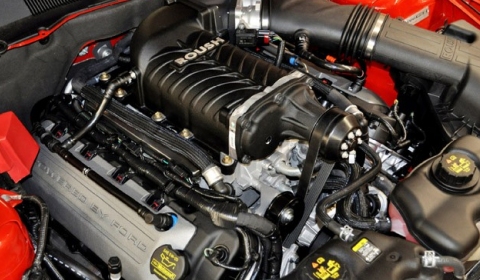 Roush has developed a 5.0 liter Roushcharger tuner kit that can boost the horsepower on the 2011 Mustang 5.0 liter V8 upwards of 550 horsepower on stock pump gasoline with more than 470lb-ft of torque.
Based on the TVS2300 Roushcharger, the 5.0 liter Roushcharger tuner kit comes with a 90mm pulley and generates an estimated seven pounds of boost. Included in the kit are 47lb. fuel injectors, high-flow fuel rails, a high-flow Roush air lid, and a twin 60mm throttle body. The heavy-duty Roush tensioner is included for the first fead belt. The tuner kit includes a 90-day parts warranty, but does not come with a calibration or maintain the Ford factory engine warranty. Professional tuning and installation is recommended.
The kit has a retail price of $ 5,999 and is available for shipment now. There will also be a 5.0 liter Roushcharger kit available this fall that will come complete with a Roush calibration and full warranty. Pricing and details to come.