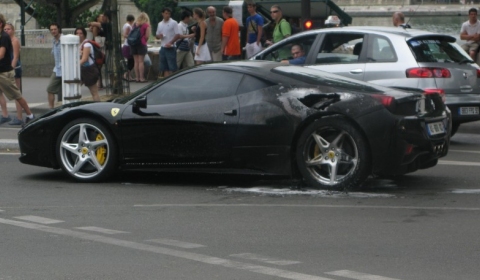 Ferrari is working on a solution to fix the problem of the 458's 'spontaneous combustion'. According to insiders at Jalopnik and Ferrari-chat, the Italians are already implementing some new changes into the prancing horse. The changes suggest that Ferrari has finally decided to issue a recall, but it is still unconfirmed.
At Jalopnik it says:
We've heard from one owner tonight that they received a letter from Ferrari claiming a gas overflow tube and gas vapor system were placed too close to the engine, thus creating the possibility of a fire. The owner was told they can take their vehicle to their dealer to receive a fix. We're currently trying to confirm this report and will update you as soon as we get it.
At Ferrari-chat a user even posted pictures of a part that was replaced near the rear left wheel.
In response to a question about whether this was related to the fire, the same person who shared photos of the repair said "I asked the same question… they gave a non-committal "probably". I think they are under gag orders. "
Stay tuned for more regarding the recall.