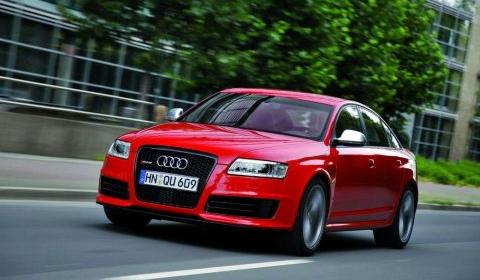 A high performance car is something you can buy for several reasons, one of them is because you want to be different. Most supercars are produced in rather big numbers these days. Going to a tuner is a small step. What you also could do, is wait until the manufacturer itself presents a special edition. Like these two new vehices we announced last week.
In Geneva, which is only a bit more than two weeks away, Audi will show two packages limited to only 500 pieces, called the Plus Sport and Plus Exclusive. Both packages will delete the speed limiter which means that the RS6 will keep on sprinting until it hits 189mph (303km/h). You will also get new 20 inch 5-spoke wheels, a new suspension kit called 'sports suspension plus', a badge in the interior telling you which limited number you exactly are driving.
The Audi exclusive package adds new leather in an exclusive colour that can be chosen from Audi's exclusive program and several technical functions to make it as safe as possible.
Under the hood you will find the same V10 producing 580bhp together with 650Nm of torque resulting in a sprint time from standstill to 62mph (100km/h) in just 4.5 seconds.
Last but not least, the Plus Sport will set you back €3,250 (£2,820 – $4,422) while the Plus Exclusive will add €8,310 (£7,210 – $11,307) to the showroom price!
[Via Autoblog.nl]