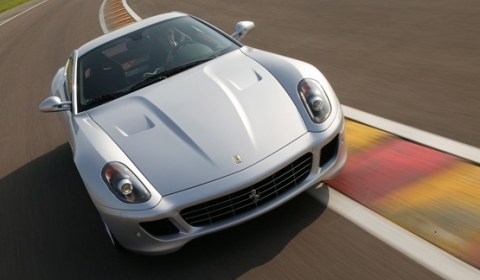 News or rumours about Ferrari pops up ones in a while. This time it's Ferrari CEO Amedeo Felisa who discussed future developments regarding the Italian brand while visiting Australia. He elaborated on the introduction of the 458 Spider, the hybrid 599 concept – to be unveiled in Geneva – and a lighter and more-powerful GTO version. A 458 "Scuderia" isn't planned at this stage, however a new Enzo supercar is on its way!
Felisa visited Australia for the opening of a brand-new Ferrari/Maserati dealership in Sydney. The building also holds the offices of Ateco Group, the importer for the Fiat, Fiat Commercial and Alfa Romeo brands in Australia as well as the niche Maranello and Modena brands.
The CEO confirmed that a Spider version of the coupé 458 Italia would go on sale next year, a 'Scuderia' version isn't planned as yet. He also confirmed what chairman Luca di Montezemolo stated last week that a hybrid version of the 599 GTB Fiorano will debut at the Geneva Motor Show 2010. He even addressed more information about the model to GoAuto.
The test mule has been running for a year now and it will reduce fuel consumption and emissions by up to 25 percent. We will present the new concept of the hybrid at Geneva. It will be based on the 599, but that doesn't mean it will debut on that model. We have a plan to introduce new technology on our cars that will reduce consumption and emissions. The next step is to apply the technology on Ferrari cars.
The 599 hybrid will carry a 80kg weight penalty due to the incorporation of the new "green" technology. Plans for production are at least five years away.
The technology is not ready. The suppliers are not ready. Everything is underdeveloped. There is a lot of work to so. It is not for tomorrow. We haven't decided when it will be introduced. It will be around that period 2015, but not before five years. The new hybrid technology can be applied to all Maranello's sports cars, including those that are front- or mid-engined or fitted with V8- or V12-engines. If we move on the hybrid I think the technology is applicable on all our models.

The first production fuel-saving technology will debut on the California in 2011. If you couple direct-injection with other technology a fuel consumption and emissions reduction of up to 15 per cent is possible. Then there is cylinder deactivation, stop-start, electric motors for certain functions, we will launch the first of these on the California next year.
GoAuto also asked Felisa if Ferrari is planning to introduce V6 layout engines as a means of improving fuel efficiency. His answer was suprising.
If I had to answer the question a year ago I would have said no, but attitudes are changing and we build cars for customers. In 20 years, who can say? However a fully-electric sports car isn't in the planning pipeline. If you look at global warming, the right solution is not full electric. It's more a marketing solution than a real one, sound is just as important as design and performance for Ferrari. We will not make engine sounds with speakers.
We left the best information for the final part of the story. First of all, the current 599 GTB Fiorano is set to receive major production upgrades. With sales of the front/mid-mounted, V12-engined sports car very sluggish despite the arrival of the HGTE handling upgrade package, a much-rumoured higher-powered GTO version is "coming". Felisa confirmed it! But it is not all! He also confirmed that a next-generation Enzo supercar is on the way although it won't carry forward the Enzo name and will be limited to left-hand-drive only.
The future looks bright for Ferrari!
[Via Teamspeed]