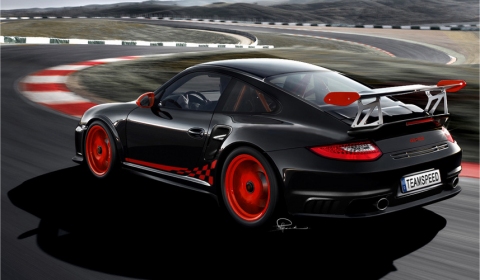 Rumours and reality are closely related. In some cases rumours become reality, in some they do not. Let us open up the speculations regarding the new Porsche GT2 RS. Yes, they aren't new and were discussed back in the beginning of 2009. This time we can say it is really coming, just by quoting Teamspeed. Is that enough basis for confirmation? You may decide after checking out the pictures and reading the story!
Any words on the package? Only a few. It will have an engine producing 550+ bhp and the PDK kit, which is Porsche's automatic double-clutch gearbox. The supercar will be a track-biased vehicle with better handling characteristics as its little sister the GT2 and center-locking wheels. Weight-saving acrylic glass will be used for the rear window. The complete set of modifications result in a 14% weight reduction, or about 200kg.
No figures are available yet. Not even the release date of the vehicle has been estimated. We can only show you these pictures of the brand new vehicle and expect a release latter this year.
[Credits to WILDSPEED for the renderings]