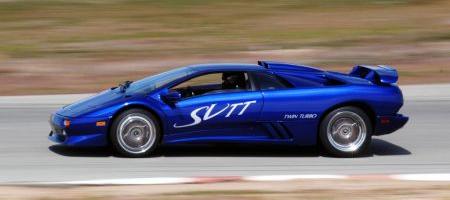 Today's photo of the day shows a very rare 1998 Lamborghini Diablo SVTT Monterey Edition. Only 20 Diablo SV ME were built from the factory in Italy and just one got two turbochargers on the V12 engine. That resulted in an output of 750bhp and to make it even more exclusive it was finished with a Sapphire Blue Exterior with Jet Black Interior. A true collectors item!
Strangely enough this car was for sale about a two weeks ago but nobody showed real intrest.
To make Lamborghini fans even drool more, the Diablo SVTT has some very impressive figures: top speed over 200mph (320km/h) and a sprint to 62mph (100km/h) takes just 2.9 seconds.
[Via L4P]