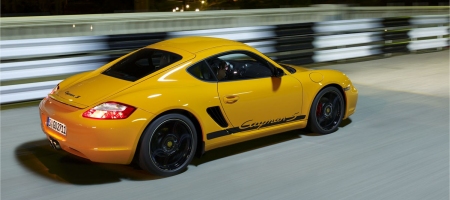 At the beginning of this year we reported about the Cayman Club Sport; a lightweight version of the existing Cayman model range. We received information that the CS version will hit the market next year, following the Boxster Spyder introduced a few weeks ago.
The Porsche engineers will try to lose as much weight as possible. Although it isn't official yet, we expect several changes inside the interior, lightweigh plates all over the car and a set of lighter wheels. Next to these weight saving changes, the Clubsports will gain a bit more power on top of the standard 320bhp.
The performance will of course improve. A standard Cayman S does 171mph (274km/h) and 4.9 seconds on a sprint to 62mph (100km/h).
The vehicle hasn't been officially introduced yet, but a Dutch newspaper suggests a release within the upcoming months.